Explaining the ABoR
25/03/2015
Jean-Paul Redouin, Chair of the Administrative Board of Review (ABoR), answers questions on its specific role in the new era of ECB Banking Supervision.
Administrative Board of Review (as at 25 March 2015)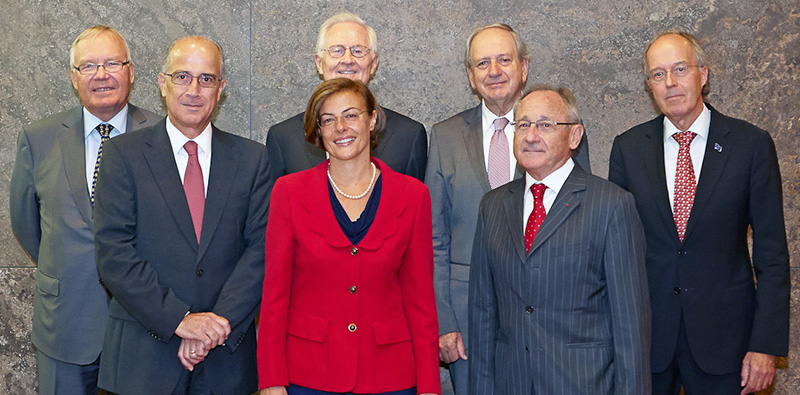 Please can you outline the ABoR's position in the whole banking supervision framework?
Yes, I would say it is important that people know what kind of animal we are. We are not an advisor to the Governing Council. But we are not a judge either. Together we are five permanent and two alternate members. We come from different countries and different backgrounds. We have experience in central banking, banking supervision, banking law - we actually have two professors on board. We all were appointed for a five year term starting last August.
What exactly is the role of the ABoR?
Any natural or legal person may request a review of a supervisory decision of the ECB which is addressed to that person, or is of a direct and individual concern to that person. After such a request is made, we carry out an internal administrative review of the ECB decision. Then we provide our opinion, based on our expertise and our judgement. The person making the request can also choose to challenge an ECB decision directly at the European Court of Justice.
Do the Supervisory Board and the Governing Council have to listen to the ABoR's opinion?
Our opinion is not binding. It is up to the Supervisory Board to follow it or not and to propose to the Governing Council to alter or confirm its initial decision. The ECB Governing Council has the right to follow it or not, to take this course of action or that.
What happens if they decide not to act on your opinion?
A bank can then challenge the decision in the European Court of Justice and at that point all our proceedings will be open to them. The court will see if a recommended course of action has not been followed – and ask the question – why?
So you have real power?
Yes. The fact that we exist goes right back to the principles behind the creation of the ECB and the move to a monetary union. The ECB had to be accountable because of its power to decide on monetary policy for all euro member countries.
Now we have built another big pillar of banking union where the Supervisory Board and then the Governing Council are taking decisions on banks. These banks employ many people and these decisions can affect how they operate.
For this reason, the EU legislator created a system of banking supervision which has checks and balances built in. The banks can ask for a review if they don't agree with a decision.
So we have a system where the ECB takes its decisions independently. But the ABoR, made up of independent people, has - on the request of a bank - the power to review these decisions and give an opinion.
Do you actually meet representatives of the banks themselves?
Yes, we don't work solely on notes and arguments given by the banks, we also devote time for hearing them in person too. So the representatives of the banks come here to Frankfurt. We have had a couple of experiences already where the MD or the CEO of the bank explained to us their arguments. It is an opportunity to find out what is behind their challenge of an ECB decision.
What is the work schedule? What has it been like so far?
It has been quite intensive. In between meetings we have teleconferences to keep us in touch and to examine documents. It takes time because it is an exchange of opinions. We have to make an assessment with different points of view. The regulation provides that we have to vote. As chair, I think it is essential that we have open and free discussions. It is real teamwork. So far, it has been going well.
SEE ALSO
Find out more about related content