ECB Youth Dialogue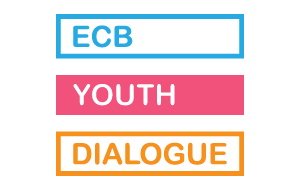 We know that the decisions we take can have an impact on your day-to-day life. That's why we want to make sure that you not only hear from us or about us, but also have the chance to talk directly to us and with us.
The ECB Youth Dialogue gives you the chance to do exactly that. We hold events around Europe – and online – that put you in direct contact with ECB policymakers so you can ask any questions you have and share your views with us.
Youth Dialogue with Danièle Nouy and Sabine Lautenschläger, Frankfurt, November 2018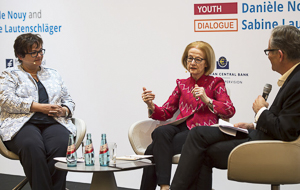 Students and alumni from Frankfurt School of Finance and Management had the chance to talk to the heads of European banking supervision about their work to keep banks safe and Europe's financial sector strong and stable, in the interests of all of us.
With their terms of office drawing to a close, Supervisory Board Chair Danièle Nouy and Vice-Chair Sabine Lautenschläger looked back on what has been achieved since European banking supervision was established in 2014 and shared their experiences of what it was like doing something that had never been done before.
Here's a taster of the discussion!
Past events
Youth Dialogue with Danièle Nouy, Madrid/Spain, May 2018
Danièle Nouy, Chair of the Supervisory Board, met with a group of young professionals working in the financial industry in Madrid. They had many questions for her, not only about European banking and financial stability, but also about ethics in finance, digitalisation and other more personal topics, such as what motivates her to do the work she does.
The event, which was held in partnership with Banco de España, was a great opportunity for younger professionals to share their thoughts and experiences with a senior policymaker and to learn from each other's perspectives.
Here's a taster of the discussion!
Find out more
Do you want to know more about the topics of this ECB Youth Dialogue? Take a look at the following pages!
European banking
Financial stability
Cyber resilience