Diversity networks
At the ECB we have a number of employee networks helping to foster an inclusive environment.
ECB Rainbow Network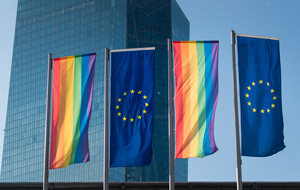 The ECB Rainbow Network is the professional network for the ECB's lesbian, gay, bisexual and transgender (LGBT) community. The network was established in 2015 and consists of ECB staff members who meet regularly and seek to raise awareness and promote inclusion of LGBT employees at the ECB.
ECB Women in Leadership network
The ECB Women in Leadership network is a group of female colleagues who meet on the topic of gender diversity with the main objective of fostering gender-balanced representation in management-level positions and who support the ECB's work to achieve its gender targets.
ECB Ethnic & Cultural Group
The ECB Ethnic & Cultural Group is a social network of staff aiming to enhance ethnic and cultural diversity in the ECB by raising awareness, encouraging understanding, developing goodwill and promoting inclusion of the culturally diverse communities at the ECB.
Diversity Ambassadors
In 2012 the ECB established a group of Diversity Ambassadors, a lively network of colleagues from various business areas who meet on a regular basis and promote diversity and a culture of inclusion across the institution.